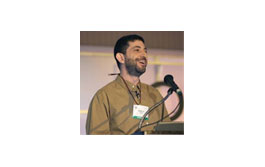 Company/Title:Chief Sociologist
Focus / Expertise:Social Media analytics
City/Country: Redwood City, CA, USA
Marc Smith is a sociologist specializing in the social organization of online communities and computer mediated interaction. He founded and managed the Community Technologies Group at Microsoft Research in Redmond, Washington and led the development of social media reporting and analysis tools for Telligent Systems. Smith leads the Connected Action consulting group and lives and works in Silicon Valley, California. The Connected Action consulting group applies social science methods in general and social network analysis techniques in particular to enterprise and internet social media usage. SNA analysis of data from message boards, blogs, wikis, friend networks, and shared file systems can reveal insights into organizations and processes. Community managers can gain actionable insights into the volumes of community content created in their social media repositories. Mobile social software applications can visualize patterns of association that are otherwise invisible.