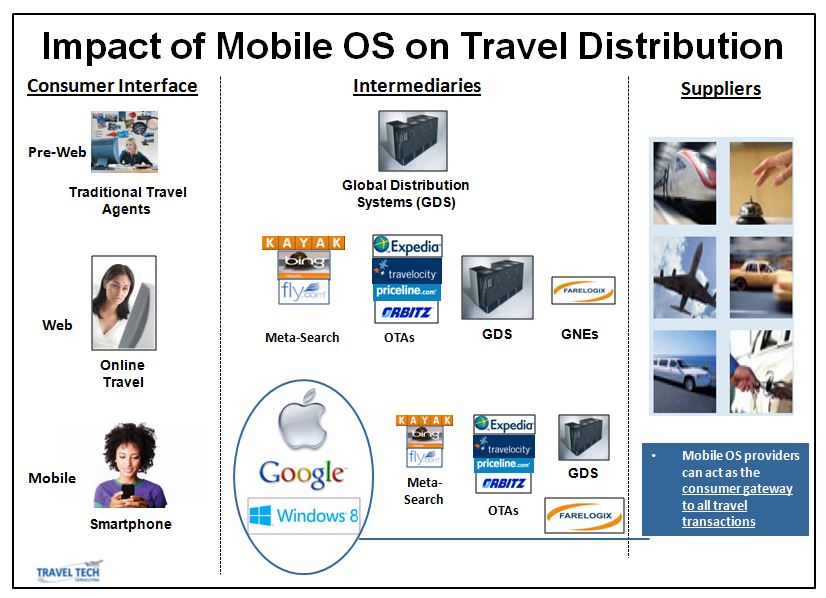 Update: July 10th 2012 – Apple awarded iTravel Patent!
The approaching wave of mobile OS travel buttons (Apple iTravel, Google Travel, Bing!Travel Mobile) need to be viewed within a historical context of travel distribution. At the heart of these efforts is a new customer interface for travel.
During the pre-Web days, traditional travel agents controlled distribution through their mastery of GDS cryptic formats. A travel agents' worth (especially in a corporate travel setting) was often gauged by their proficiency on the GDS. The customer often viewed the travel agent's systems as a black box with almost mystical capabilities. In this environment the only consumer interface to travel was the telephone or face-to-face conversations with a travel agent.
The Web created a new era of transparency for the travel process. Supplier sites, Online Travel Agents (OTAs) and meta-search engines suddenly removed the mystery behind travel pricing providing consumers with instant access to travel prices and schedules. This transparency has reshaped all sectors of the industry. Consumers now can compare a variety of sources and book entire vacations online. Even for those remaining traditional travel agents, would quickly admit that their conversations often include "I was looking at prices online and I found…). The Web also has changed the ground rules for distribution. Though the GDS still dominate offline and much of online distribution, direct channels through supplier direct websites and new alternative distribution platforms such as Farelogix (supported by the OpenAxis Group) are causing tensions in the traditional GDS-centric travel distribution ecosystems both economically and through the holding back of ancillary services from traditional distribution channels.
It is my belief we are at the beginning of a radical change in distribution this time triggered by the mobile revolution. With the mass adoption of smartphones and the growing influence of tablets, mobile devices are un-tethering the planning and booking process from the desktop altering consumer behavior and again changing the ground rules for customer interfaces. All the current Web strategies are carrying over to mobile with most major travel companies optimizing their sites for the mobile Web (if not you are in danger of being left behind!) and many travel companies have created native (downloadable) apps for specific devices. The problem with this natural evolution from the Web to mobile is that it has created a fragmented environment where the traveler has to either engage with multiple mobile Web sites or download multiple apps. Shopping multiple Web sites online is not a big issue, but on mobile devices it can be more challenging.  Even the traditional, one-stop-shops, the  OTAs have fragmented their mobile offering reacting to the need for last minute hotel deals. Meta-search may be best positioned for mobile, but these sites lose the ability for continuous engagement, an important mobile opportunity, as the bookings are still spread across multiple sites. Consumers are hungry for a simple integrated mobile travel solution. This is opening the door for the OS travel buttons. Companies such as Apple, Google and Microsoft are masters at user interfaces. There is ample room to simplify the planning and booking process especially with the proper integration of voice, touch and gestures. This could revolutionize mobile travel interfaces. Travel companies need now to innovate with mobile interfaces by adding voice, simplifying steps through storing of preferences, and exploring other new interface methods. Mobile may act as a catalyst for further direct supplier distribution as airlines sell ancillary services on mobile directly to their best customers. Even when the OS buttons arrive they need to hook up to some existing travel e-commerce infrastructure, but the industry can ill afford to let another layer get between themselves and their customers.