The Impact of Mobile OS on Travel Distribution
April 30, 2012
Travelport Breaks Ranks and Agrees to Integrate AA Direct Connect
March 13, 2013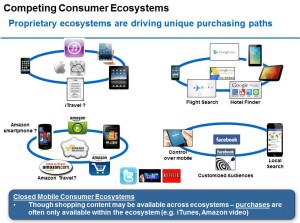 I was in Miami last week attending the Farelogix Media Day.  My presentation entitled The Future of Travel Distribution can viewed via SlideShare.   Part of my presentation discussed how competing consumer ecosystems (Apple, Google, Amazon, Facebook) provide unique content and purchasing paths via mobile devices.
Over the next five years mobile devices (including tablets) will become the foundation for most travel e-commerce. As a result airlines can create their own mobile ecosystems around their alliance/joint venture partners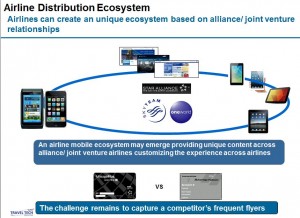 ;
Soon airlines will be able to offer specific targeted content to their best customers directly to their mobile device creating a true personalized direct distribution ecosystem.