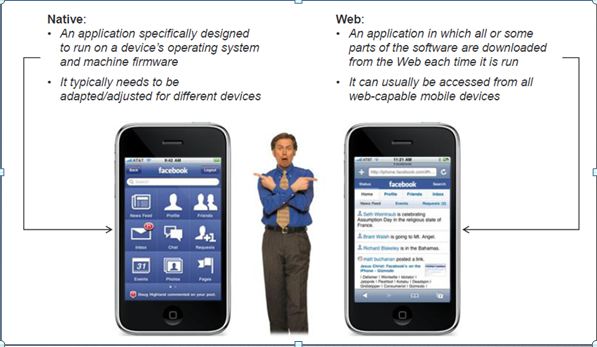 Source:  Global Intelligence Alliance
One major debate that persists in the area of mobile development is the question of whether a travel company should create a native (downloadable) app or simply provide a mobile Web application. As part of my upcoming PhoCusWright Webinar Mobile Chaos: Do I Need an App for Every Platform? (next Wednesday September 15th at 12:00 noon), I will discuss this subject.  As a teaser here are some of my thoughts concerning this debate.
An interesting paradox exists in respect to the motivations of travel firms in porting their Website to the mobile Web. Many state that their primary motivation is to make their app available on as many devices as possible at the lowest cost. Though this is an admirable goal, the reality of the mobile Web is that the majority of browsing is happening on smartphones such as the iPhone, Android or the BlackBerry. Therefore if the goal is to reach full feature phones, through these efforts is misdirected. A more important issue is how a normal Web pages appear on today's smartphones. Even the most sophisticated smartphone browsers still provide a frustrating experience for the user when viewing a normal Web page; therefore, every travel company needs to port their existing Website to the Mobile Web. With more and more browsing happening on the smartphone and with the direct correlation between the frequent traveler and smartphone ownership, the effort to transcode the current Website to be more readable on a mobile Web browser is no longer a luxury, but a mandatory part of every travel company's mobile strategy. As HTML5 matures, the ability to interact with a phone's core features such as the GPS, calendar, address book, accelerometer and  compass is emerging.

Source:  Global Intelligence Alliance
As a result, the mobile Web will behave similar to the native app and within the next few years matching native app capabilities. The question then arises, do I need a native app?
The answer is best provided in terms of market segmentation.  To create a native app that simply mirrors the functionality of the current Website, wastes resources and may not yield any significant incremental benefit to the travel company or traveler.  From a market segmentation perspective, the native app should be targeted to your best customers and as a result provide unique functionality that takes advantage of location, personalization and situation.  Recently, Priceline reported that a good majority of its mobile app bookings where coming the same day as the reservation.  Priceline did not disclose whether these bookings had cannibalized their Website bookings or whether they were incremental. The Priceline Negotiator is a good example of a limited function native app that is targeted to specific activity – book last minute hotel or car reservations. Clearly Priceline did their homework to determine the profile of their best customers and the type of function they wanted in a mobile app. Other downloadable apps miss this opportunity and simply mirror Website functionality.  Native apps can provide a travel company with a great opportunity to interact with a company's best customers, but these applications must be innovative taking advantage of the smartphone's unique capabilities such as the compass or accelerometer and provide personalized recommendations based on the traveler's location and situation. It is with this in mind, a travel company can have a successful native app launch. Though most apps seem to first appear on the iPhone the importance of the Android and BlackBerry platforms cannot not be ignored as each has a significant market share. For non-US roll-outs Nokia is an essential platform as well.  We also have the launch of Windows 7  in the fourth quarter of this year and the re-emergence of WebOS under the direction of HP as wild cards to consider as well, not to forget about the explosion of tablets that will hit the market over the next 12 months.  Mobile Chaos will be the norm for some time.