Will people use VR to experience virtual vacationing during the Covid-19 pandemic? That was the question I received last week from a reporter from CNBC. My response was that yes, some will seek a break from their shelter at home confinement and use VR to escape, but I believe a more important role of VR is travel planning. Both Virtual Reality (VR) and Augmented Reality (AR) are finding new purpose during the industry wide-travel shutdown, but both suffer from limitations that are inhibiting these tools from becoming a key part of the travel industry recovery process. I believe these limitations can be overcome and should be a major focus of all travel industry marketing and technology teams.
For VR, the issue is the classic chicken and egg problem. Simply put, not enough people have VR headsets in their hands to enable it to become more ubiquitous tool for virtual travel planning. For AR, it is less about availability of AR equipment as any smartphone can produce AR content, but the issue of defining the relevant use case scenarios.
As I often do when being interviewed about emerging technology by the press, I asked this CNBC reporter whether they themselves had ever spent any significant time with VR. I received the standard response that he had tried a variety of headsets at various tradeshows, but he did not own a headset and thus he had never really spent much time in the virtual world. At that is the problem.
Over the years I have had many "ah-ha" emerging technology moments. Whether it was I first time I downloaded the first web browser Mosaic while at Sun Microsystems in the early 1990s and experienced the World Wide Web for the first time or when I actually purchased my first iPhone in 2008 and finally understood what it meant to have a small computer in your pocket. The cliché that trying is believing applies here. For those, who like the CNBC reporter who only have experienced VR briefly at tradeshows, understanding the full immersive quality of today's VR may not be fully appreciated.
The gaming sector has been the main driver of VR usage and innovation, but the travel industry has the most to gain from expanding the use of VR, particularly at this difficult time for our industry. Anyone who has spent time in the VR world will confirm that the virtual presence (feeling like you are somewhere else) has been achieved, a significant change from earlier VR platforms. There is already significant travel content already available in the virtual world. Furthermore, Facebook's Oculus platform makes purchasing in VR as easy as purchasing on your laptop or smartphone, so VR commerce is also possible today.
So, if the issue is not content or applicability, but market adoption, a solution seems obvious. Despite the severe economic pressures on all sectors of the industry, now is the time for OTAs, airlines or hotel chains to partner with Facebook Oculus, Microsoft HoloLens or HTC to distribute headsets en mass to their best customers at a discounted price. All types of travel entities should not only promote virtual holidays via VR but use the platform to help travelers explore off the beaten path destinations and experiences. A key part of this process must be the ability to save the VR experience and connect it with the real-world transaction allowing the user to create a wishlist of travel destinations and experiences. The time is now to make this investment and build the VR pipeline of trip planning.
Will consumers opt for virtual vacations when things return to a more robust travel economy? Some may, particularly the elderly or those unable to afford more elaborate destinations, but the value in discovery cannot be understated. As the industry comes back, people will be more inclined to elevate health and safety as a high priority over specific destinations. Exploring less traditional destinations via VR, can lead these consumers to actual leave there homes for more remote destinations where they may feel more safe. Now is the time to explore using VR!
The other obvious VR role is in area of conferences and tradeshows. When Facebook purchased Oculus, one of the main drivers stated by the company was the desire to create a virtual social networking platform. Any company that holds a conference that has been postponed or moved to a virtual setting, should also aggressively develop VR content for the conference and explore ways to implement virtual networking using VR. Perhaps VR conference participants might like to gather in "birds of a feather" common interest areas at the virtual conference replicating in the real world a familiar process at many tech conferences. Finding a way for conference and tradeshow attendees to participate virtually not only with conference content but with other attendees is the key difference between this approach and simply having traditional online streaming content.
So how about AR, isn't that more about experiences at travel destinations? I was speaking recently to a colleague about the use of AR during the pandemic and his first response was, I don't really get it. To better understand how AR can be used, you need to play around with AR at home. If you haven't done this already, try this- search for an animal on Google on your smartphone, such as a hedgehog. You will see that one of the responses is "meet a life-sized hedgehog up close, view in 3D". You can now have the hedgehog be part of your shelter in place home experience. Here a hedgehog who joined use for breakfast showing up to feast on some of my wife's matzo brie cereal.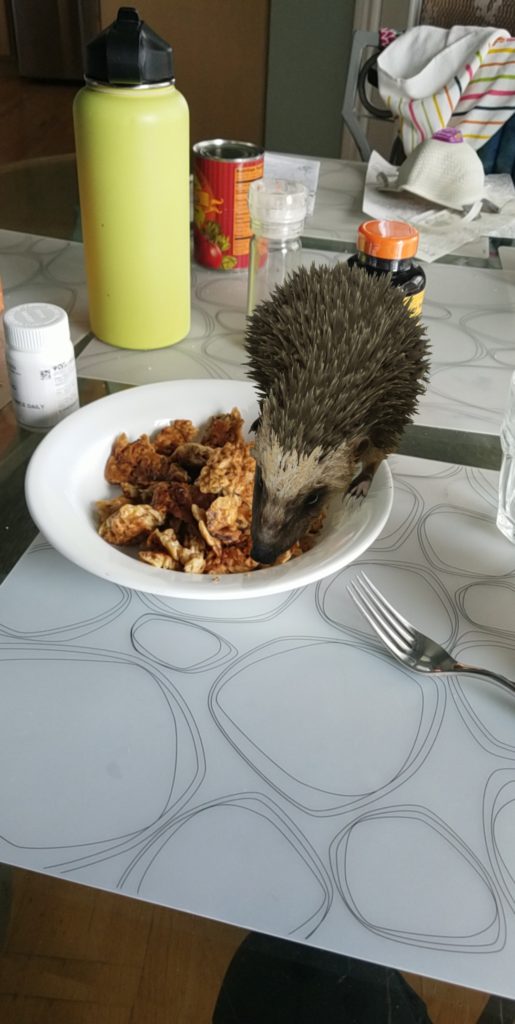 OK, then what is the use case for AR during the pandemic for the travel industry? How about a virtual scavenger hunt where consumers visit hotel properties, destinations, experiences and search for key AR hidden clues they collect and redeem for travel credits with your company? Remember staying at home is boring. Pokémon Go proved that AR games can be effective if engaging. Now is the time for the travel industry to embrace AR to promote your brand and help potential travelers discover new experiences and services.
As often happens with major global change, emerging technology which may been around for some time suddenly has new relevance. Clearly an investment in both VR and AR today by the travel industry will help spur demand as we move to the new normal.