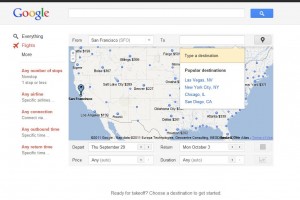 The much anticipated  integration between ITA Software and Google arrived today with the launch of Google Flight search. The most visible enhancement in this new interface is the instant loading of fares and schedules when you enter the city pairs. The ability to launch flights from the standard Google box which leads you to the flight page ties general search to flight specific schedules and pricing in a way that we have not seen before. Other features such as using a map to locate flights based on a budget from your specific city and the calendar view to look at when cheap flights are available are also delivered instantaneously.
For the industry the biggest news is not the display but the links associated with the booking of these flights. For now the only booking options are the airline sites. TNOOZ quoted Googe's take on this issue:
"Like any other partner, Google needs to honor the airlines' distribution decisions. It has long been known in the industry that the control of pricing data and distribution of the same by airlines is tightly held. That means that we can only show airlines in the booking links.We will be exploring advertising opportunities within the page to showcase the products and services from other relevant partners, including OTA and metasearch partners. We'd also like to give users and advertisers alike the opportunity to provide feedback so that we could iterate."
Considering the current tension between the airlines and the GDS/OTAs, this statement by Google is significant. Whether the worst fears of the OTAs and Meta-search companies are being realized (as evidenced by their heavy lobbying effort against the deal) or whether this is a temporary negotiation ploy by Google to obtain greater advertising revenue requiring the OTAs to pay for participation on this screen, is unclear. I suggest you may want to re-read my post on the Google / ITA Acquisition from April to see what else may be in the works from this deal. Certainly key to watch is the impact on mobile flight search!