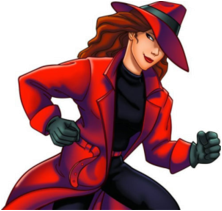 With all due respect to the classic children's TV show and game Carmen Sandiego, I have borrowed the show's tag line having just completed a grueling travel schedule that took me to London, Washington DC, Miami, Rome and Amsterdam all within a five week period. These  trips involved client technology engagements and speeches to various audiences. My Miami stop was to participate as Co-Chair of the PhoCusWright Travel Innovation Summit.  This most recent series of trips augments a busy 2011 travel schedule that included trips to Israel, Orlando, Italy and two trips to Cannes, France.
Travel Tech Consulting provides services that cross all segments of the travel industry (airlines, hotels, OTAs, tour operators, TMCs, government and technology suppliers who support all these segments) with the underlying theme of how emerging technology is changing business practices. A common topic across these speeches and engagements has been the impact of mobile technology and social media on the travel process. Whether addressing audiences in Israel or Amsterdam, I was able to observe first hand the impact mobile technology and social media is having worldwide. Just as much of the traditional travel ecosystem has become accustomed to dealing with online issues, mobile and social are changing the game. As part of various research projects including a comprehensive special report for PhoCusWright entitled "Mobile  Hits the Mainstream", I have interviewed a wide range of travel and technology companies about the impact of mobile and social media on their strategies. Here are a few observations:
In many parts of the world mobile is becoming the primary means to connect to the web.
The emergence of tablets is not only un-tethering the travel planning process, but extending the ability to plan and book travel any place at any time. When I returned I was greeted by my new Amazon Kindle Fire, the first under $200 tablet that represents the fusion of the e-reader and media tablet at a lower cost that the market leading iPad (Amazon Kindle Fire is now the #2 tablet worldwide).
Audiences and clients all now agree that their customer's social graph is having a direct influence on travel purchasing and most are struggling to implement an effective social media strategy to target the key influencers while protecting their brand integrity across social media channels.
Now that I am back home in the San Francisco Bay Area and looking out my office window at San Francisco and the Silicon Valley I am amazed how my region which is home to Apple, Google and Facebook is changing the travel industry in every corner of the globe.