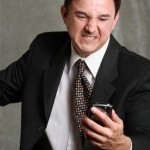 Over the last 10 years I have been  a vocal advocate of the growing impact of mobile technology on the travel experience. I have written numerous articles, research reports, and I have given a number of speeches on the subject, including  most recently a keynote address at the Amadeus Airline e-Commerce Conference last month in Cannes (more about that research and presentation in an upcoming post). What I wanted to address in this blog is the gap that still exists between the potential of mobile technology and the reality of using it as a travel resource on a vacation  I experienced this first hand as I my business trip to Cannes was combined with a three week vacation with my wife and daughter in France, Italy and the the UK.
I am still convinced that the combination of location, personalization, and relevance are the three ingredients required to provide value in a mobile experience. The main problem I see today is that the right information is not easily accessible, the networks are not always reliable and the thus the practicality of depending on your smartphone as a travel resource guide is not quite there. When you travel multiple countries and cities is is hard to find the single trusted source for things such as restaurant suggestions and activities.  Navigation can be tricky as well as we actually I had a French taxi driver try to use my iPhone GPS to locate our hotel in Velizy, but as we approached the location it seemed to mysteriously shift.
I am still bullish on the smartphone's impact on the travel experience, but my first hand frustration on this recent trip (not to mention the expense of data roaming charges) has given me a somber dose of  reality into my otherwise sunny predictions. I am still awaiting the true intelligent mobile travel assistance who can deliver what I want, where I want it, when I want it,  on my preferred device.