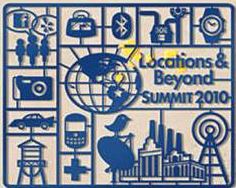 Earlier this month I attended the Locations & Beyond Summit 2010 in San Fransisco. The Summit coincided with the CTIA Enterprise and Applications Fall conference and thus the sessions attracted speakers from all major wireless companies and software companies that support the wireless ecosystem. The workshop began with a keynote address from Rob Carter CIO of FedEx Corporation. Rob spoke about how FedEx pioneered the use of location tracking as a core way to improve the package delivery process. He also introduced a new device, SenseAware, which FedEx uses for medical and other perishable shipments. In addition to location, the device senses temperature, light exposure and movement. Though SenseAware is a dedicated device for perishable shipments, today's smartphones are evolving into into similar sensing devices. Examples were mentioned where patients in conjunction with their doctors are using smartphones to monitor blood pressure and heart rates.
The program then broke into three sections "Everything, Everyone. & Everyplace."
The Everything session had senior executives from T-Mobile, Sierra Wireless, AT&T, Nokia, and Jasper Wireless. The primary focus of the discussion was the emergence of location based tracking on not only mobile phones, but other consumer devices and the physical world.  All agreed that location was a key direction for their companies and that products and services built around location will drive future revenues for wireless networks operators as long as they can provide consumers with added-value and greater efficiencies.
The Everyone session featured representatives from Cisco, NTT Docomo, Oracle, Telmap and Intel. Apart from each speaker focusing on their own particular location enabled technology, a great deal of discussion was on new markets and opportunities.  As you probably would expect, I raised my hand and mentioned how location based services are essential for improving the user experience for the travel and hospitality industries. One important comment came from Masaaki Maeda President & CEO of  NTT Docomo, USA. Japan has always been ahead of the rest of the world in innovative wireless technology. When asked what was the most popular app for NTT Docomo's i Mode phone, Mr. Maeda cited the e-concierge app.  This clearly reinforces my belief that consumers want a personal mobile assistant.
The Everyplace session included executives from Marvel, Ekahau, CSR and Verizon Wireless.  The discussion was on how location based services could be delivered anywhere.  Naturally part of the discussion focused on indoor navigation.  Ekahau, a company that pioneered location services over Wi-Fi spoke about their success with hospitals in creating location based services for nurses, doctors and patients. The biggest inhibitor of indoor location based services is the lack of standardized maps of indoor areas. Indoor location sensing is critical for the hotel industry.  Hotel executives need to think beyond Wi-Fi hotspots as only customer Internet access points to understand that investment in a comprehensive internal Wi-Fi grid can enable specific property location targeting.  In door location is critical for the hospitality industry to fully recognize the revenue opportunity for wireless merchandising.
As the only travel industry representative at this Summit it became very clear to me that further innovation in location based services can benefit our industry with new revenue opportunities and further improve the travel experience for our passengers and guests.